The ALLROUND Finder by PAJ offers the possibility to monitor persons, cars, motorcycles, and other objects for an extended period of time with the help of GPS locations and movement tracking. It is small and easy to handle and with its various functions, it can be used for almost any activity.
Highlights of the ALLROUND Finder
Up to 30 days of battery life with 5,000mAh Li-ion battery
Small and easy to handle
Various functions
Excellent GPS signal. Even in a pocket or a backpack exact location monitoring is possible
Usable almost anywhere
Optional: also usable with our PAJ monitoring portal enabling you to track paths travelled
Your advantages with the ALLROUND Finder
A 5,000 mAh Li-ion battery is integrated into the ALLROUND Finder. This enables a usability of the GPS tracker for up to 30 days without recharging it. No other device in the comparison test of Vergleich.org comes with similar performance the ALLROUND Finder has. The ALLROUND Finder ranks as number one in front of many other devices. Convince yourself.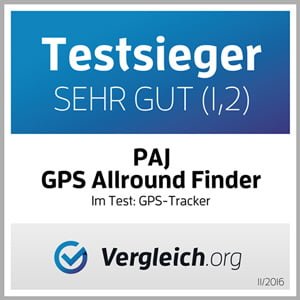 FUNCTIONS OF THE ALLROUND FINDER
Location tracking via call or SMS
This is how easy and quickly the ALLROUND Finder by PAJ works
Insert SIM card
Authorise your telephone number
Send SMS for location tracking to the ALLROUND Finder or call the ALLROUND Finder directly
The GPS device answers with coordinates
SOS-button
The outside of the ALLROUND Finder comes with an SOS button, just underneath the power button. Hold the button for three seconds and the FINDER sends an alarm to a prior authorized telephone number together with the information that help is required at the respective location of the person.
ALARM OF THE ALLROUND FINDER
Movement alarm / vibration sensor
The ALLROUND Finder comes with a very sensitive movement alarm. You will be informed in time when the GPS tracker or the secured object is moved.
Alarm when leaving a specified perimeter
You can set a perimeter in which the ALLROUND Finder may be moved. In case it leaves this perimeter, the authorized telephone number will be contacted via SMS.
Alarm at low battery status
Should the battery of the ALLROUND Finder run low, you will receive a message. Hence, you have the possibility to recharge the GPS tracker on time.
Alarm for breaking a speed limit
Do you want to check whether an employee or one of your children is going too fast? Then you will need this function. In case of a break of a pre-set speed limit, you will be notified via SMS.
ALLROUND Finder by PAJ
Charging device and USB wall plug adaptor
Manual
NOTE: The ALLROUND Finder works with a regular SIM card in standard size, which is not part of the delivery. This SIM card must be activated and precharged. Also, the PIN code must be deactivated. After the purchase, no further costs will be incurred by PAJ. You can simply add a SIM card to your order.
Find useful ways to use your ALLROUND Finder. You do not need to restrain when using it, because one area of use does not limit another. Maybe yours is among them, too.
WHY WOULD YOU BUY AT PAJ?
Free, comprehensive and competent advice, before and after the purchase
German manufacturer
English manual
Individual hardware
Individual software
Individual accessories
No risk – you have a 30 day right of cancellation and a 2-year warranty
Quick delivery
All articles we offer are in stock and will be shipped the same day after the order is received. We always try to send the parcels out as early as possible. We send via DHL, so the parcel arrives at the customer's location after 3-6 work days on average. Photo: © drubig-photo – Fotolia
Secure payment
You can make your payment via pre-payment or PayPal. If you choose PayPal as your mode of payment you also have the possibility to make your purchase via credit card. We promise: as soon as we have received your payment, we will send the order out.
© Copyright 2017 – PAJ UG (haftungsbeschränkt) All Rights Reserved